Kryptic Kratom Relaxation Shot 60ml
Product Description
Kryptic Kratom Relaxation Shot 60ml
Kryptic Kratom – Relaxation Shot – Double Serving – Hurry Up and Relax
Kryptic Kratom is formulated with natural herbs and extracts blended to aid in relaxation and mood improvement.*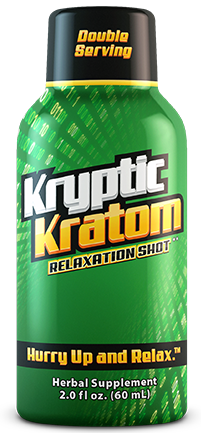 Hurry Up and Relaxtm
Drink – The Kryptic Kratom shot is a great option for stress management, so you can unwind your favorite way.
All Natural – Many of our products contain mitragyna speciosa (commonly known as kratom). It has been used in traditional medicines since at least the nineteenth century.
Relax – You are amongst friends here. Sit down, kick back, try Kryptic Kratom, and feel the relaxation start to set in.
Origin – Kratom comes from a tropical evergreen tree in the coffee family native to Southeast Asia.
Be Happy – At Kryptic Kratom we understand stress and have a safe, herbal response to it.
DIRECTIONS: Take one serving of Kryptic Kratom 10-20 minutes before the desired effect. Shake well before opening. Consume the entire bottle within 20 minutes for best results.  The stimulating effects should be felt within 10 minutes of drinking and will remain for up to 6 hours. Proudly manufactured in the USA.
All Natural – Kryptic Kratom is formulated with natural herbs and extracts blended to aid in relaxation and mood improvement.*
Heavy Relaxation – The intended result of this blend are feelings of strong relaxation*
Calories – Only 35 calories per serving and 8g sugar per bottle.
Free Shipping for Sub Totals of $50 or More
**These statements have not been evaluated by the Food and Drug Administration. This product is not intended to diagnose, treat, cure or prevent any disease.**
Warning: Only for use as a biological specimen.  Manufacturer of this product takes no responsibility for the misuse of this product.
Must be 18+ to Purchase..
Read entire label before use.